Crunchy pecans that will crackle after the first bite and creamy chocolate filling and coconut cream that will melt into your mouth. This homemade chocolate COCONUT pecan pie recipe is worth knowing!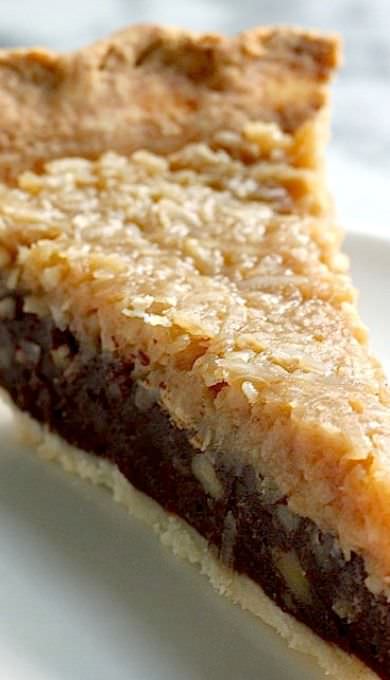 This tried and true recipe features a creamy chocolate filling, crunchy pecans, and melt-in-your-mouth coconut cream– all on top of a flaky butter crust! It's like 3 desserts in one… and it's 100% amazing.
Tips and Tricks for Recipe Success:
The recipe for homemade pie crust is below, however, if you like, use your favorite pie crust recipe in its place or buy one from the store!
If you have a nut allergy, this pie can be made without the pecans. Simply leave them out!
Ingredients
For the crust:
2 1/2 cups all-purpose flour
2 tablespoon sugar
1/2 teaspoon salt
1 cup very cold unsalted butter, cut into tiny cubes
1/2 cup ice water (you probably won't use it all)
For the chocolate filling:
4 ounces 70% bittersweet chocolate, chopped
2 ounces unsweetened chocolate, chopped
(1) 14 ounce can of sweetened condensed milk
1 large egg + 4 large egg yolks, at room temperature
1 1/2 teaspoons vanilla extract
1/2 teaspoon salt
3/4 cup pecans, chopped
For the coconut filling:
1/2 cup packed light brown sugar
1/2 cup half and half
2 ounces SALTED butter, cut into tiny pieces
2 egg yolks
(1) 7 oz bag sweetened shredded coconut
1 teaspoon vanilla extract
1/4 cup pecans, chopped